Winning

This game is a great way to teach kids the importance of working as a team and cooperating.
The goal is for each team to finish with a positive score.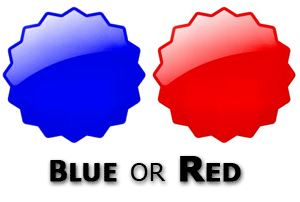 Divide your group into six teams.
The game has 10 rounds. For each round, groups must choose a color - either "Red" or "Blue" without knowing what the other groups have chosen.
The group then wins (or loses) points based on what the other groups chose.
6 x Blue: Lose 2 points
5 x Blue: Win 2 points
1 x Red: Lose 10 points
4 x Blue: Win 4 points
2 x Red: Lose 8 points
3 x Blue: Win 6 points
3 x Red: Lose 1 point
2 x Blue: Win 8 points
4 x Red: Lose 4 points
1 x Blue: Win 10 points
5 x Red: Lose 2 points
6 x Red: Win 2 points
So for example, if 1 group choose Blue, they get 8 points, and the 4 groups that chose Red lose 4 points.
There is no talking allowed between groups except during negotiation periods (after rounds 2, 4, 6 and 8). There are also bonus rounds (5, 7 and 10) where there are more points up for grabs!
Use the folloiwng score sheet
Tick one

Points

Red

Blue

Won

Lost

Round 1





Round 2




5 minutes negotiation

Round 3





Round 4




5 minute negotiation

Round 5
(double payout)

Round 6




5 minute negotiation

Round 7
(Triple payout)

Round 8




5 minute negotiation

Round 9




Round 10
(10 x payout)

Total (Winnings minus losings)
Submitted by: Group Games

9 Icebreakers that will leave your Group Buzzing
We've compiled a list of icebreakers which are fun and easy to run!
8 Fun and Effective Team Building Activities
Team Building Activities are a great way to strengthen relationships amongst your group. Here are 8 activities that will do just that!

Youth Group Names
Looking for a good name for your Youth Group? Check out our list of
Youth Group Names
.